As the first guest of Academic Life, one of the series academic activities of the Future Ocean Forum of IAOS, Professor David A. Yuen shared his life experience with more than 30 teachers and students of OUC in the academic salon on the 10th floor of the Institute on the afternoon of August 28th.
David A. Yuen is the Professor of Columbia University, AGU fellow as well as an authority of international computational geodynamics.
Tan Yuyang, the postdoctoral fellow of Key Lab of Submarine Geosciences and Prospecting Techniques of Ministry of Education in China, is the invited host of Academic Life this time.
At the beginning, Professor Yuen Shared with us his wandering academic life, which turned from engineering to physical chemistry, then to geophysics, and now to big data and computational geodynamics. Prof. Yuen's pioneering spirit, inquiring spirit and unique vision in changing research directions were greatly admired by the teachers and students. Thus the atmosphere was animated and pleasant.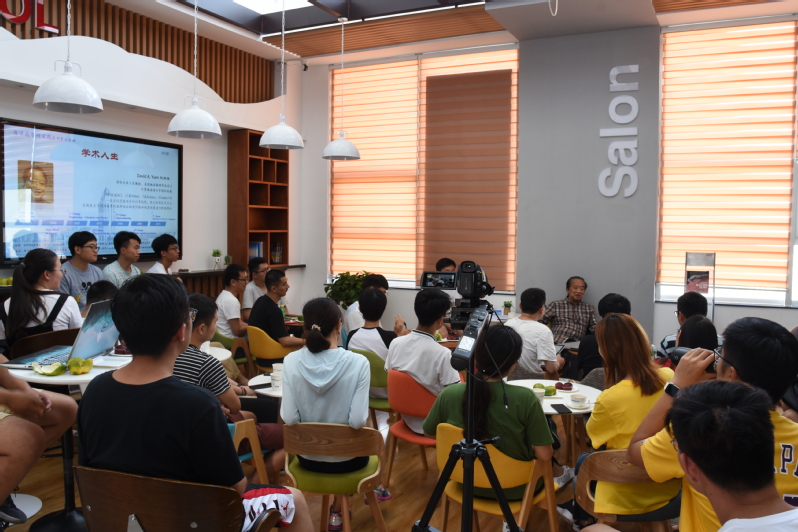 Professor Yuen described the future development direction and the beautiful vision of the big data of earth science to the teachers and students. He also gave his own ideas and suggestions on the question proposed by the students, which was that how the big data should be integrated with other disciplines.
In the end, Prof. Yuen encouraged the students to broaden their horizons no matter they would be engaged in scientific research or other work in the future. Only in this way can they have new discoveries, new directions and a wider life path.
It is worth mentioning that after the activity, Prof. Yuen continued to share books, articles and latest news of his work with the teachers and the students through WeChat and email. Interested students can add the monitor elected during the lecture on WeChat to learn more about the relevant information:
Mr Zhangzxy159054672433